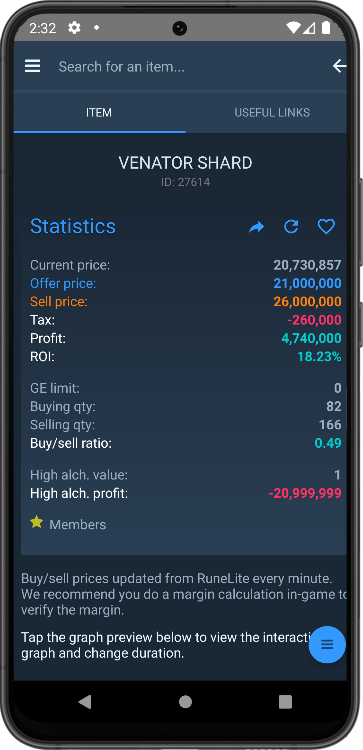 GE Tracker Mobile
With the release of OSRS Mobile, we have invested in the accelerated development of a mobile app for GE Tracker.
Although GE Tracker can already be used on mobile devices, a native app for Android/iOS will provide the most effective way to flip on the go. We will provide the very same high quality graphs you are already used to, and the best OSRS mobile money making tools designed to make you money while you get on with your every day life!
We are currently in an open-beta testing stage for a large app overhaul, and you can download our app onto your device by using the following links: TestFlight (iOS) or Google Play (Android).
Push Notifications
Use our Price Alerts feature to receive push notifications on your mobile device. Set as many alerts as you like, with no additional cost. Be confident that you will be on top of any major price movements.
Multi Platform
We know our users will use a multitude of mobile devices, so we are ensuring that GE Tracker is available as a native application on both Android + iOS with identical functionality.
App Store® is a trademark of Apple Inc., registered in the U.S. and other countries.
Google Play and the Google Play logo are trademarks of Google LLC.
---